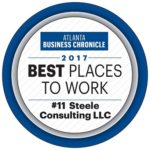 Steele Technology is part of Steele Consulting which is a tax consulting firm serving Fortune 500 and mid-sized clients. Steele was founded with the purpose of providing high quality, flexible yet affordable resources to augment your tax department. We focus on hiring long-term, well qualified, experienced professionals with outstanding reputations in our tax community. These professionals are made available to you to lead or help with compliance, provision work, or special projects at fees lower than you would expect to pay for our consultants' high degree of tax technical proficiency.
Value is the reason major companies rely on us. They obtain first-rate professionals, when they need them, at an attractive cost.
Our consultants and affiliates have hard to find experience helping companies maximize the use of their tax tools and related technologies.
This website is now live. It is dedicated to bringing accountants and tax professionals together. Members can now participate in blogs, discuss issues in the forums, post on their own wall, and communicate privately with other members. Individuals are welcome to apply to become an affiliated consultant while firms and companies can post profiles to share information about their organization.